Echimunn C
Dietary supplement
Echimunn C
Dietary supplement
Vitamin C of natural origin from wild rose fruit extract (Rosa canina), with Echinacea purpurea herb extract and zinc.
Echimunn C supplements the daily diet with natural plant ingredients that support the body's immunity and vitamin C of natural origin, which helps in the proper functioning of the immune system, protects cells against oxidative stress, and contributes to the reduction of tiredness and weariness.
Echimunn C is only intended for adults.
Contains natural sweeteners:
steviol glycosides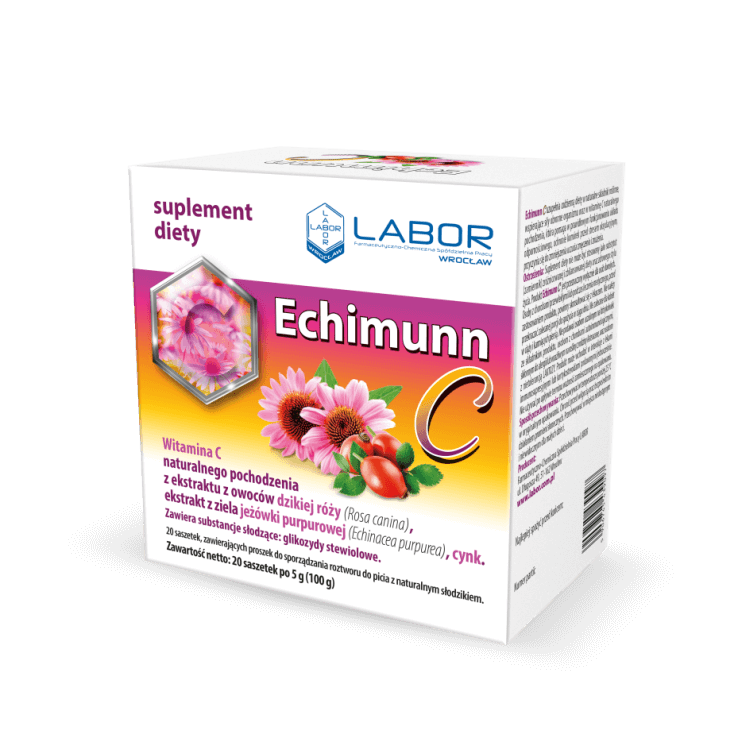 Triple potency in strengthening the immune system thanks to the content of Vitamin C, Echinacea herb extract and zinc.
The supportive effect of the dietary supplement is enhanced when administration begins with the first signs of a cold.
Methods of administration:
Echimunn C is only intended for adults.
Take orally 1-3 sachets a day, after a meal.
Dissolve the contents of the sachet in a glass of hot water (after 4 weeks of use, take a week break).
Package
20 sachets of 5 g (100 g)