Calcineff Minerals
Dietary supplement
Calcineff Minerals
Dietary supplement
If you need to take care of healthy bones, teeth and the proper functioning of the immune system.

Calcium at a dose of 400 mg
High content of Vitamin D3 2000 IU.
The addition of Magnesium and Zinc
Ingredients: : Calcium carbonate; magnesium oxide; bulking agent: microcrystalline cellulose; binder: polyvinylpyrrolidone; bulking agents: corn starch, lactose monohydrate; anti-caking agent: talc; bulking agent: Sepistab ™ ST 200; anti-caking agents: stearic acid, silicon dioxide; zinc oxide; cholecalciferol (vitamin D3).
| | |
| --- | --- |
| Nutrient | Content in 2 tablets |
| Calcium | 800 mg |
| Magnesium | 400 mg |
| Zinc | 20 mg |
| Vitamin D3 | 100 µg (4000 IU) |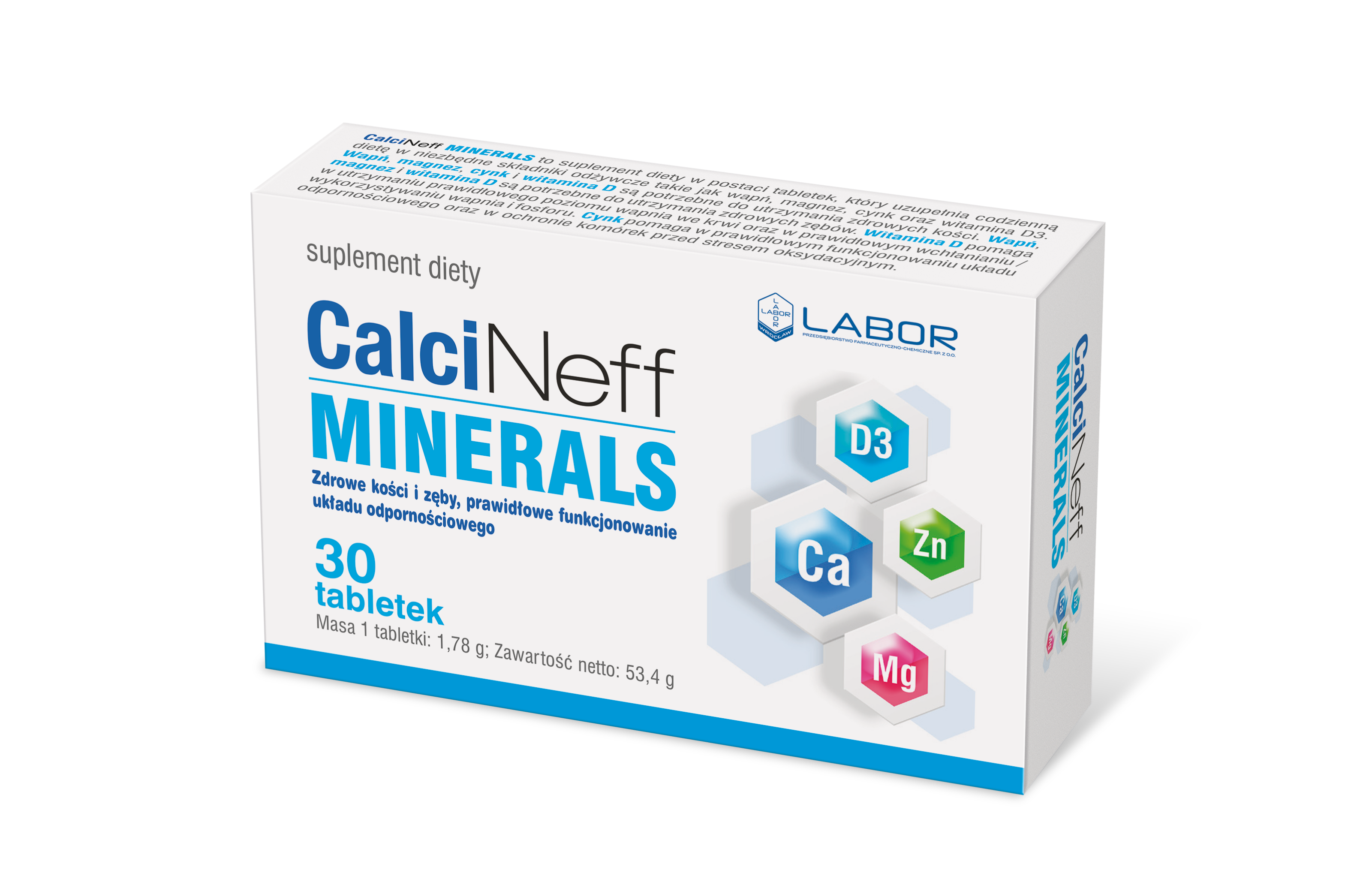 Calcineff Minerals is a dietary supplement in the form of tablets that supplement the daily diet with essential nutrients such as calcium, magnesium, zinc and vitamin D3. 

Calcium, magnesium, zinc and vitamin D are needed to maintain healthy bones. Calcium, magnesium and vitamin D are needed to keep teeth healthy. Vitamin D helps in maintaining the proper level of calcium in the blood and in the proper absorption / use of calcium and phosphorus. 

Zinc helps in the proper functioning of the immune system and protects cells against oxidative stress.
Method of administration:
Consume 1 tablet 2 times a day.
Warnings: Do not exceed the recommended daily dose. Do not administer to people with hypercalcemia.