Calcineff Minerals Plus
Dietary supplement
Calcineff Minerals Plus
Dietary supplement
If it is necessary to take care of healthy bones, teeth, muscles and nerves
A balanced complex of 9 vitamins and minerals.
Mint flavor.
The original form – chewable tablets
It does not contain lactose, fat, salt, dyes or artificial preservatives
For children from 4 years of age
Ingredients: Calcium carbonate; bulking agent: isomalt; magnesium oxide; fillers: microcrystalline cellulose, corn starch, polyvinylpyrrolidone; anti-caking agent: magnesium salts of fatty acids; VitaCaB (mixture of calcium ascorbate and organic boron); anti-caking agent: fatty acids; lemon flavor; zinc oxide; L-selenomethionine; sweetener: sucralose; manganese sulfate; peppermint oil; cholecalciferol (vitamin D3); menaquinone (vitamin K2).
Nutrient

 

1 tablet

 

Calcium
400 mg
Magnesium
150 mg
Zinc
5 mg
Vitamin D3
50 µg (2000 IU)
Manganese
1 mg
Vitamin K2
22,5 µg
Vitamin C
9,3 mg
Selenium
25 µg
Boron
1 mg
*Nutrient Reference Value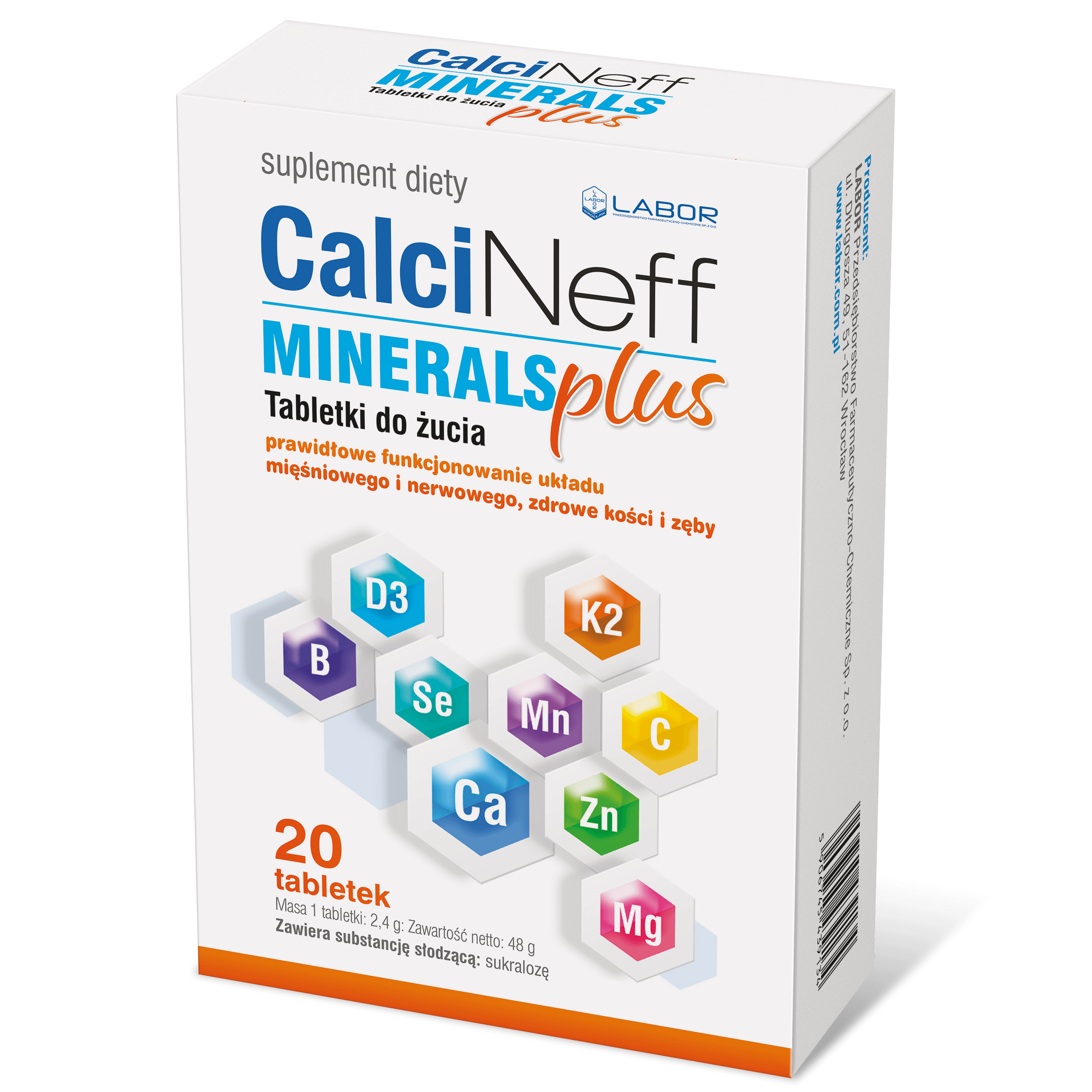 Calcineff Minerals Plus is a balanced formula recommended especially for people who care about maintaining healthy bones and teeth and the proper functioning of muscles and nervous system.
Directions for use:
Children aged 4 – 12: 1 tablet daily. Adults and children over 12 years of age: 1 tablet 2 times a day. Children are advised to consult a pediatrician to adjust the dose.  
Warnings: Do not exceed the recommended daily dose. Do not administer to people with hypercalcemia.
Package
20 chewable tablets
It does not contain gluten, lactose, fat, salt, dyes and preservatives.